Dennis Roseman
Office: B1J MLH

Note: the "B" means "Basement"
Do NOT expect me to be in 1J MLH.
Room 1J MLH is on the first floor---
the Basement is one floor below the first floor.
Addresses
Email

roseman@math.uiowa.edu

Paper Mail

Dennis Roseman
Department of Mathematics
The University of Iowa
Iowa City, IA 52242-1419
USA

Phone:

voice: (319)-335-0779
messages (Dept. Math.): (319)-335-0714 fax (Dept. Math.): (319)-335-0627
---
---
---
CURRENT CLASS FALL 2009: MATRIX ALGEBRA

---
---
TEXTBOOK: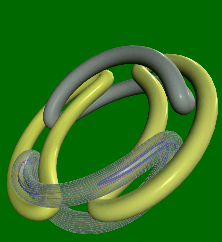 ---
Research Interests:
In Brief:
Knotted surfaces in 4-space
Knot theory (circles, links and graphs in 3-space)
Mathematical visualization
Knot energies.
---
---
Graphics Gallery:

Click on the graphic or the caption below it.
---
In addition we have some test annimations. NOTE: If these load or run too slow for you try the alternate versions.
We welcome feedback during this testing phase.
---
---
Some Recent Publications:
Projections of Codimension Two Embeddings, Knots in Hellas '98, Ed. Gordon, Jones, et. al., Series on Knots and Everything, Vol 24, World Scientific (2000).
Exploring Low dimensional Objects in High Dimensional Spaces, Mathematical Visualization, algorithms, Applications and Numerics, Ed K. Polthi
er, H-C. Hege, Springer Verlag. pp 281-291, Springer Verlag (1998)
Reidemeister-type Moves for Surfaces in Four Space, Knot Theory, Ed. V.F.R.Jones, J. Kania-Bartoszynska, V.Turaev, J.H.Przytycki , P.Traczyk , Banach Center Publications, Vol. 42 (1998)
Wiener's thought on the computer as an aid in visualizing higher dimensional forms, AMS Proc. of Symp. in Appl. Math., Vol.52, pp. 441-471, (1997)
What Should a Surface in 4-space Look Like ?, Visualization and Mathematics, Ed K. Polthier, H-C. Hege, Springer Verlag pp. 67-82 (1997)
Design of a Mathematician's Drawing Program, Computer Graphics Using Object-Oriented Programming, Ed. S. Cunningham, J. Brown, N. Craghill and M. Fong, pp. 279-296. , John Wiley & Sons. (1992)
Spinning knots about submanifolds; spinning knots about projections of knots, Topology and its Applications. V. 31, 225-241, (1989)
Videos:
Viewing Knotted Spheres in 4-space, (8 mins) (1992).
Twisting and Turning in 4 Dimensions, (19 mins) (1993).
Unraveling in 4 Dimensions, (18 mins) (1994). Click here for clip
Software:
Hew , a viewer for geometric objects in 4 and 5 dimensional space (1996)
---
---
Teaching Interests:
Elementary Topology (Prentice-Hall)
Use of computers in undergraduate mathematics
Visualization for undergraduate mathematics
Visualization in mathematics, arts and science
---
---
Personal Interests:
Folk music, particularly American and Irish---tenor banjo and concertina
Polka music
Dixieland banjo
Organic and heritage gardening
---
These pages last modified: June 20 2002 so it is clearly in need of major revision.
---
Back To Department of Mathematics Personal Pages
---
Back To Department of Mathematics Home Page