28.9.2 Review of High School Log and Exponential Identities
In addition to the four high school identities,



you need to remember that the natural log and exponential are inverse functions, that is,



We may write the inverse relationship more operationally as



Using Log we can convert any other base bx to an expression in base e as follows:

Example CD-28.5 Conversion of Base

Here is the way to convert bx to the natural base. Solve



The Law of Repeated Exponents gives,



for this value of the constant k.

For example, if b=3, then

and


The natural base logs and exponentials are important in calculus. The reason they are called "natural" is because they have the simplest derivatives, whereas other bases have a "less natural" calculus. This is why we convert to base e.
Example CD-28.6 Compound Interest
Compound interest on money is given by an exponential function. If you invest a "principal" P for a time t (in years) at the annual rate r (as a decimal), compounded n times per year, then your balance is



For example, suppose you invest $500 at 10% (r = 0.1) compounded each 1/2 year. In six months your balance is



If this amount all now earns interest, after six more months, you have



This is two compoundings in a year,



Notice that this gives $1.25 more interest than simple interest for a year, because the six month interest earned interest for the second half of the year.

Quarterly compounded interest at a 10% annual rate for one year would give


Example CD-28.7 Double Your Money
Logarithms enter finances when you wish to answer questions such as "How long does it take to double an investment at 10% quarterly compounded interest?" We want our balance B to equal 2P after an unknown time t,



Take the log of both sides and use the (LogPower) identity to solve for t,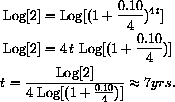 Simple noncompounded interest at 10% would take 10 years to double, whereas it takes only 7 years with compound interest. In 10 years compounded quarterly, we have 2.685 times our original investment.
---
Exercise set CD-28.9
---
You are given that . Express the function f[x]=2x in terms of the natural base exponential e=2.7182818284590452356028747..., f[x]=2x=e??

You are given the constant . Express the function f[x]=ex+k in the form for some constant C. (HINT: Use the (ExpSum) identity.)

Triple Your Money
How long would it take at 10% interest compounded monthly to triple your investment? Solve for t.
---
Previous chapter
Next chapter
Close this window