Background
R is a language, or an environment, for data analysis and visualization.

R is derived form the S language developed at ATT Bell Laboratories.

R was originally developed for teaching at the University of Auckland, New Zealand, by Ross Ihaka and Robert Gentleman.

R is now maintained by an international group of about 20 statisticians and computer scientists.

A great strength of R is the large number of extension packages that have been developed; the number available on CRAN recently reached 10,000.
Basic Usage
Interactive R uses a command line interface (CLI)

The interface runs a read-evaluate-print loop (REPL)

A simple interaction with the R interpreter:
> 1 + 2
[1] 3
Values can be assigned to variables using a left arrow <- combination:
> x <- c(1, 3, 5)
> x
[1] 1 3 5
Basic arithmetic operations work element-wise on vectors,
> x + x
[1]  2  6 10
> 2 * x
[1]  2  6 10
A Simple Scatter Plot
with(faithful,
     plot(eruptions, waiting,
          xlab = "Eruption time (min)",
          ylab = "Waiting time to next eruption (min)"))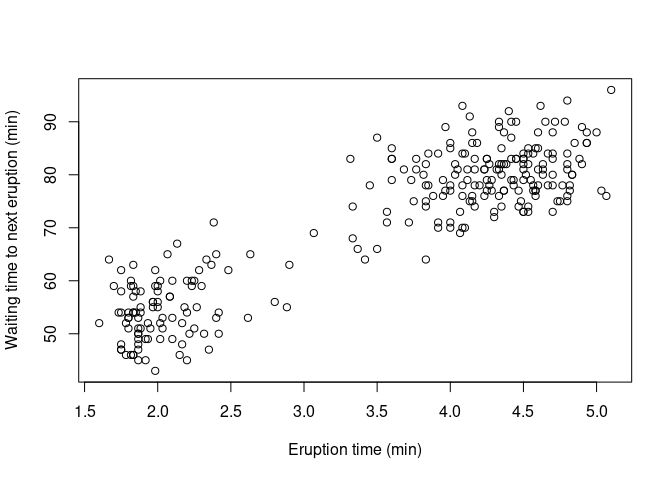 Fitting a Linear Regression
fit <- with(faithful, lm(waiting ~ eruptions))
fit
## 
## Call:
## lm(formula = waiting ~ eruptions)
## 
## Coefficients:
## (Intercept)    eruptions  
##       33.47        10.73
Adding the Regression Line to the Plot
with(faithful,
     plot(eruptions, waiting,
          xlab = "Eruption time (min)",
          ylab = "Waiting time to next eruption (min)"))
abline(coef(fit), col = "red", lwd = 3)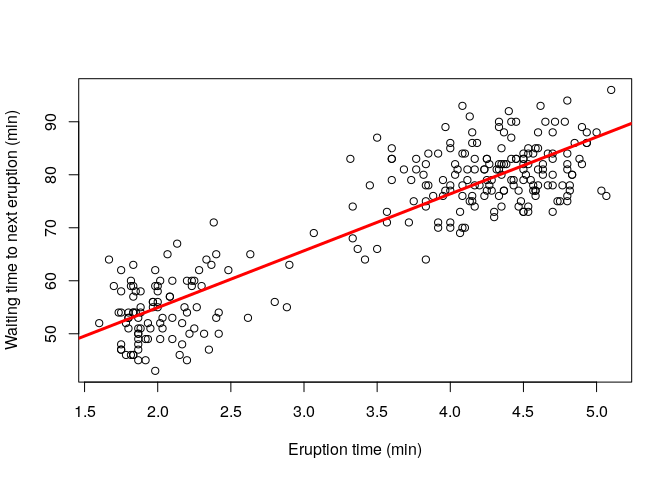 Packages and Package Libraries
Extension modules and data sets are often made available in packages.

Packages are stored in folders as collections called libraries.

.libPaths() will show you the libraries your R process will search.

The library function is used to make available packages from libraries.

You can install packages using the install.packages function or the Install Packages item in the RStudio Tools menu.
A Useful Package: ggplot2
The ggplot2 package provides a powerful alternative to the base graphics system.

The geyser example can be done in ggplot2 like this:
library(ggplot2)
p <- ggplot(faithful, aes(x = eruptions, y = waiting))
p + geom_point() + geom_smooth(method = "lm", se = FALSE)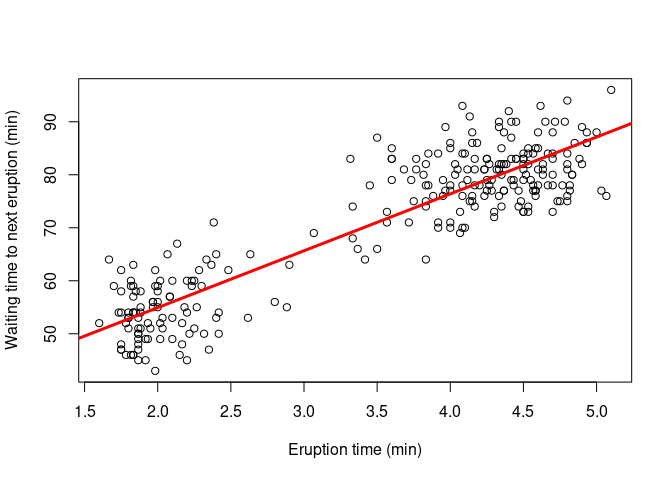 Contrast to Point-and-Click Interfaces
Even simple tasks require learning some of the R language.

Once you can do simple tasks, you have learned some of the R language.

More complicated tasks become easier.

Even very complicated tasks become possible.
R and Reproducability
Analyses in R are carried out by running code describing the tasks to perform.

This code can be

audited to make sure the analysis is right
replayed to make sure the results are repoducable
reused after changes in the data or on new data

Literate data analysis tools like Rmarkdown provide support for this.
Some R Introductions and Tutorials
An Introduction to R gives an introduction to the language and how to use R for statistical analysis and graphics.
Another introduction to R by Vincent Zoonekynd.
Quick-R web site related to R in Action book.
TryR at Codeschool.
There are many others.