Histograms in R
There are many ways to plot histograms in R:
the hist function in the base graphics package;

truehist in package MASS;

histogram in package lattice;

geom_histogram in package ggplot2.
A histogram of eruption durations for another data set on Old Faithful eruptions, this one from package MASS:
library(MASS)
histogram(~ duration, data = geyser)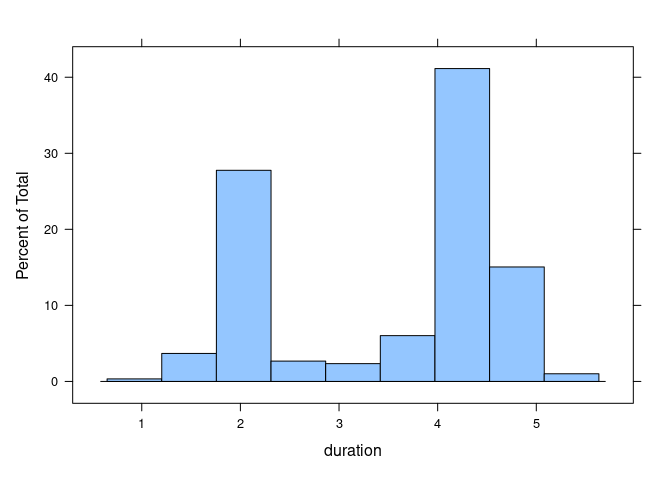 The default setting using geom_histogram are less than ideal:
ggplot(geyser) + geom_histogram(aes(x = duration))
## `stat_bin()` using `bins = 30`. Pick better value with `binwidth`.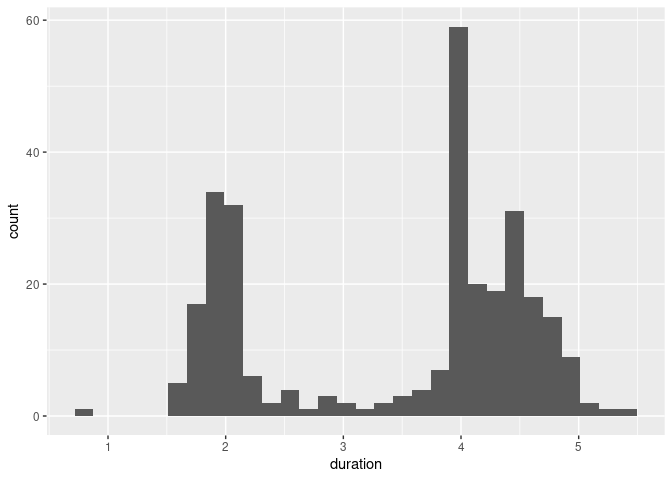 Using a binwidth of 0.5 and customized fill and color settings produces a better result:
ggplot(geyser) +
    geom_histogram(aes(x = duration),
                   binwidth = 0.5, fill = "grey", color = "black")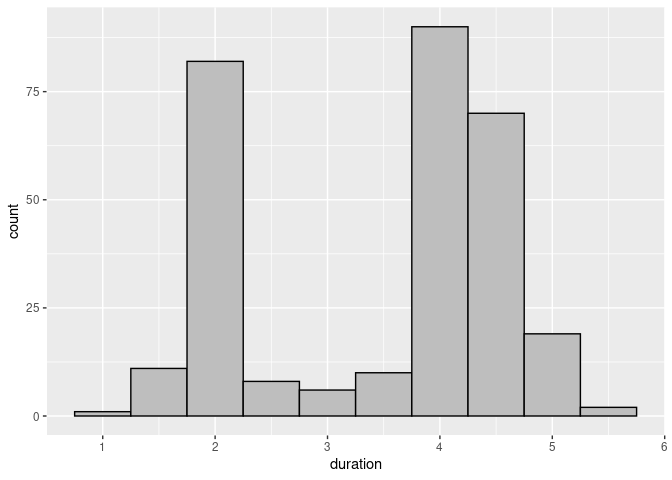 Reducing the bin width shows an interesting feature:
ggplot(geyser) +
    geom_histogram(aes(x = duration),
                   binwidth = 0.05, fill = "grey", color = "black")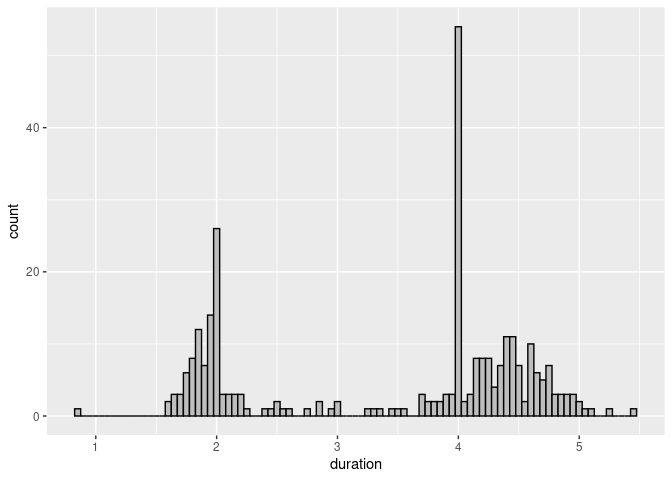 Eruptions were sometimes classified as short or long; these were coded as 2 and 4 minutes.

For many purposes this kind of heaping or rounding does not matter.

It would matter if we wanted to estimate means and standard deviation of the durations of the long eruptions.

More data and information about geysers is available at http://geysertimes.org/ and http://www.geyserstudy.org/geyser.aspx?pGeyserNo=OLDFAITHFUL.

For exploration there is no one "correct" bin width or number of bins. It would be very useful to be able to change this parameter interactively.
Superimposing a Density
A histogram can be used to compare the data distribution to a theoretical model, such as a normal distribution.
This requires using a density scale for the vertical axis.
The Galton data frame in the UsingR package is one of several data sets used by Galton to study the heights of parents and their children.
Using the base graphics hist function we can compare the data distribution of parent heights to a normal distribution with mean and standard deviation corresponding to the data:
library(UsingR)
hist(Galton$parent, freq = FALSE)
x <- seq(64, 74, length.out=100)
y <- with(Galton, dnorm(x, mean(parent), sd(parent)))
lines(x, y, col = "red")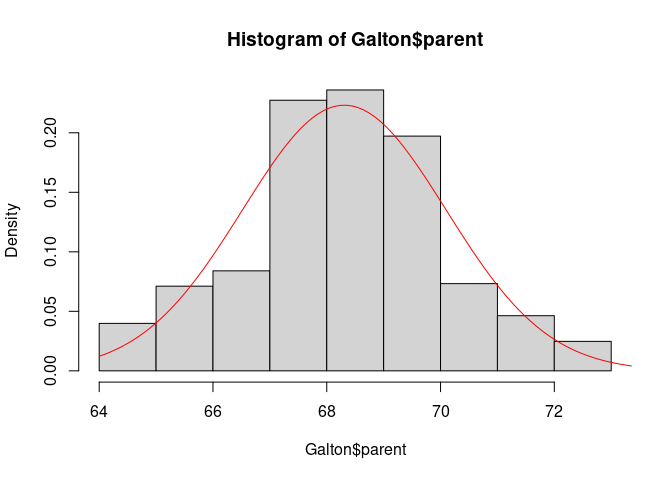 Adding a normal density curve to a ggplot histogram is similar:
create the histogram with a density scale;
create the curve data in a separate data frame;
add the curve as another layer.
Create the histogram with a density scale using the computed varlable ..density..:
p <- ggplot(Galton) +
    geom_histogram(aes(x = parent, y = ..density..),
                   binwidth = 1, fill = "grey", color = "black")
p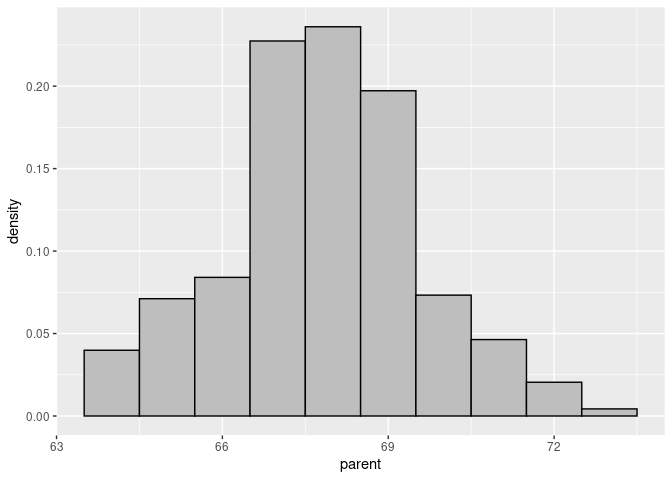 Create the curve data:
x <- seq(64, 74, length.out=100)
df <- with(Galton, data.frame(x = x, y = dnorm(x, mean(parent), sd(parent))))
Add the curve to the base plot:
p + geom_line(data = df, aes(x = x, y = y), color = "red")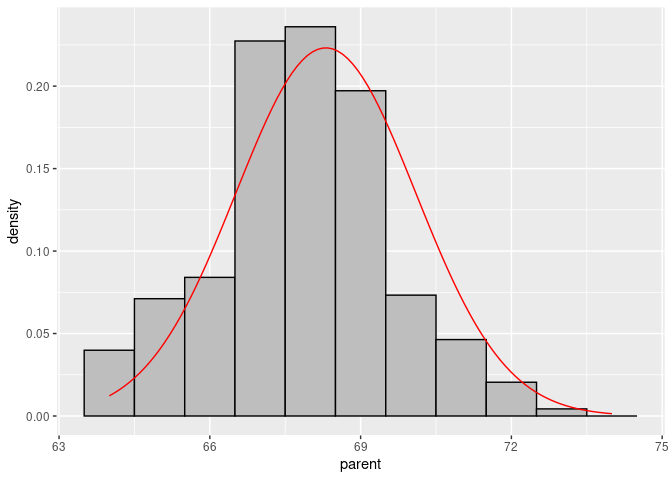 For a lattice histogram, the curve would be added in a panel function:
histogram(~ parent, data = Galton, type = "density", panel = function(x, ...) {
    panel.histogram(x, ...)
    xn <- seq(min(x), max(x), length.out = 100)
    yn <- dnorm(xn, mean(x), sd(x))
    panel.lines(xn, yn, col = "red")
})